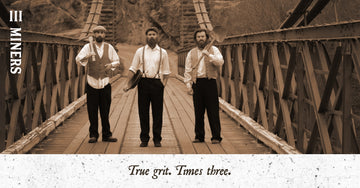 Our story of the Three Miners
In the 1860's, Thomas Oliver, Joseph Knowles and James Simmonds among thousands of European men came to Central Otago for the gold rush.
They formed the Earnscleugh Grand Junction Mining Company and employed seven men to extract gold from their claim between the Clutha River and farmland in the Earnscleugh Valley. Water was vital to the recovery of gold from the gravel so Thomas Oliver and Joseph Knowles also invested in water. They cut water races from the Fraser River through Earnscleugh Valley channelling the water into the claims of other miners. During the 1900's, the highly fertile farmland adjacent to the three miners claim was planted in asparagus and then apple trees. Grapevines were first planted in 2000. The vineyard is named after these men who made their mark on the Earnscleugh landscape more than a century ago.

The Vineyard
Three Miners Vineyard is situated in Earnscleugh Valley half way between Alexandra and Clyde. The soil type is shallow, free-draining Molyneux sandy loam with some stony sand.
The vineyard was established in 2000 by Julie Mitchell and Jeff Price when they planted 4 ha of Pinot Noir. In 2002, another 8.5 ha of Pinot Noir vines were planted and in 2003, Julie and Jeff planted 1 ha of each of Pinot Gris,  Riesling and Gewürztraminer. The last plantings were in 2007 and 2009 which added another hectare of Pinot Gris.
Pinot Noir clones planted: 10/5, 5, 6, 7,114, 115, 667, 743, and 777.
Today the vineyard is 15.5 ha with 449 rows and more than 45,000 vines. We have removed 1/2 hectare of Riesling and 1/2 hectare of Gewurztraminer vines to make way for some Chardonnay, which will be planted in 2022.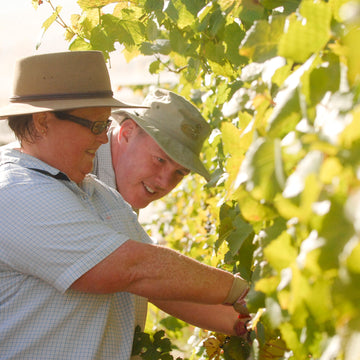 Meet the Owners
Kirstin & Paul Wright
Plant scientist Kirstin Wright wanted her feet firmly on the ground and not up a ladder. Looking for a lifestyle change with husband Paul, the couple settled on growing grapes in Central Otago.
Kirstin and Paul's life-changing move from Canterbury to own a Central Otago vineyard is an all-consuming commitment that comes with rewards—the opportunity for hands-on work with plants and more family time. Kirstin made the switch from university research scientist to vineyard manager, while Paul continues to work fulltime in the construction industry, helping at the vineyard when he's able.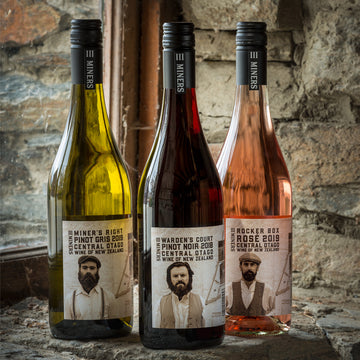 "We were sitting on our current jobs and waiting to retire, and it was like `why are we waiting to do this?' I had some understanding of grapes from my work as a research scientist, so I thought `I can do this, this is it.'
-
"I like being part of such a huge history in the Earnscleugh area. I love the landscape, it's amazing. When I get up in the morning, I'm surrounded by hills…and you can see for miles, It's absolutely beautiful. It's quiet and you just think 'how awesome is this?"
Our Team
Kirstin and Paul recognised that they didn't have all the skills they needed to make this business a success so they found specialists that best fit with their personalities and beliefs. Jamee Fortune is our Vineyard Supervisor who looks after the vineyard to grow the best quality grapes possible. Matt Connell is our Wine maker who makes our fabulous grapes into delicious wine.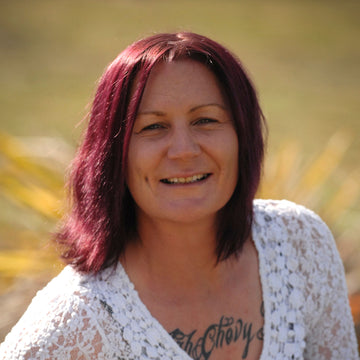 Vineyard Supervisor
Jamee Fortune
Jamee Fortune has 20 years' experience working with grapes. Originally from Marlborough, Jamee worked in vineyards in Blenheim for 10 years before moving south. Jamee is our Vineyard Supervisor who has worked for us for 5 years. She completes all the vineyard work and supervises the additional staff we need during busy times such as: shoot thinning and harvest.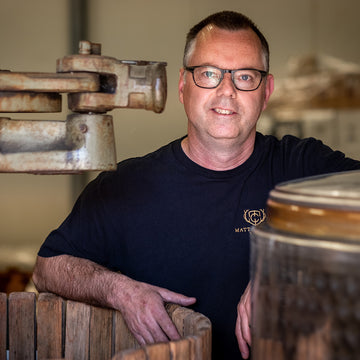 Wine Maker
Matt Connell
Matt was once a Parks and Recreation Management graduate before he returned to Lincoln University to complete a Post-Graduate Diploma in Viticulture and Oenology. For the last 20 years, Matt has worked in the wine industry in New Zealand, Australia and Oregon. Matt is the most awarded Pinot Noir wine maker in the country with over 10 Champion Trpohies to his name. Matt creates beautiful fruit-driven wines with great texture and balance from our grapes.